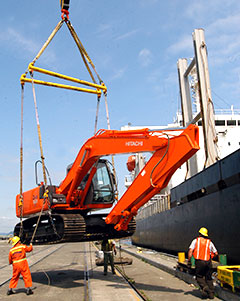 The heavy equipment market has evolved, becoming more and more regulated. Against a backdrop of increased regulatory requirements, it has become a huge challenge to compete in the new marketplace and stay compliant with heavy equipment imports.
Joseph B. Hohenstein Custom Brokers has the experience to help you meet and overcome these challenges.
We offer customs clearance and consulting services for importers of heavy equipment and related parts.
The role of a customs broker is paramount when importing heavy equipment especially if it involves a sensitive shipment with special needs. Often, the equipment must be shipped in pieces or in larger containers. Shipping oversized freight requires more attention to the details, requiring close oversight of the shipment from start to finish. Door to door delivery of heavy equipment consists of getting several transportation companies working together to get your freight to its final destination. Since this is recognized as a special needs shipment, it is important to work with a company like Joseph B. Hohenstein that has the experience and personalized hands-on approach.